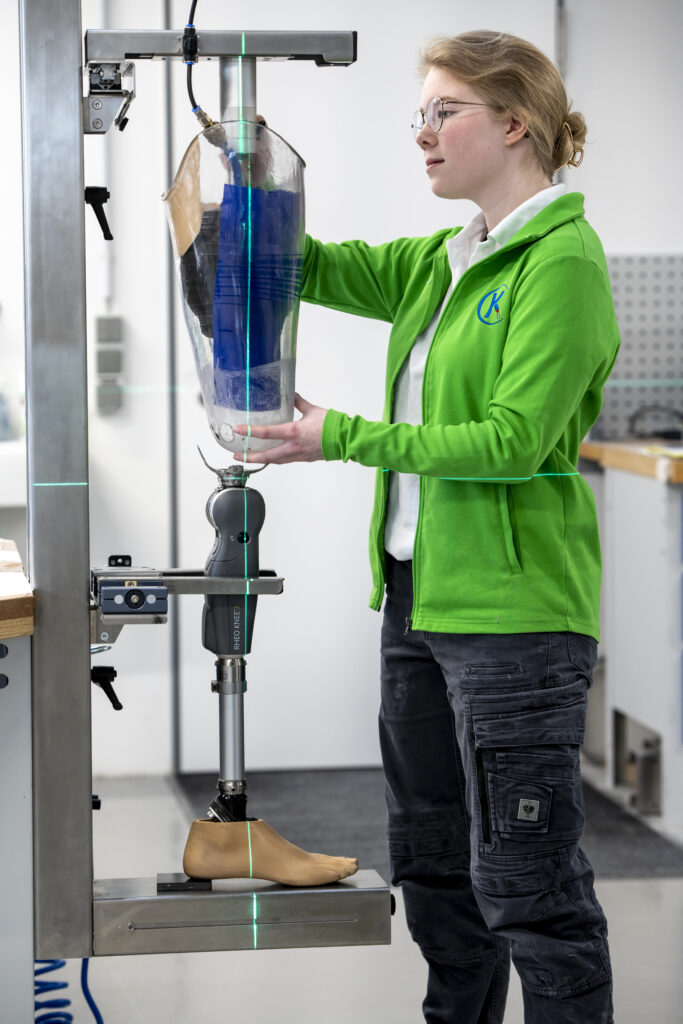 Are you looking for an aligment device to help adjust the prosthesis? We have the right solution for you!
Due to the large number of adjustment options, our IC-KP alignment device with adjustment aid enables precise compliance with the specifications that are prescribed for the various prosthesis components.
It is made of stainless steel and has a shut-off bladder for shaft fixation. The knee joint can also be fixed and a footrest is available. The integrated barometer measures the pressure in the shut-off bladder (max. 1.5 bar).
There are also 2 linear rails, one horizontal and one vertical. The ball joints are used for abduction, adduction, flexion and extension. Measuring tools, heel wedges, etc. can be stored in the drawer under the footrest.
The alignment device should be fixed locally, preferably on a wall or workbench.
Use
The construction and the adjustments may only be done by an orthopedic technician, as he has the necessary specialist knowledge and can therefore produce an optimal prosthesis.
Maintenance
If you maintain and clean it yourself, the device is maintenance-free. Please note that the pressure reducer must not exceed 1.5 bar. In addition, the shut-off bladder should be checked regularly for wear.
With the help of a laser plummet, you can now position the prosthesis components in relation to one another in such a way that they meet the construction criteria of the components and the individuality of the patient.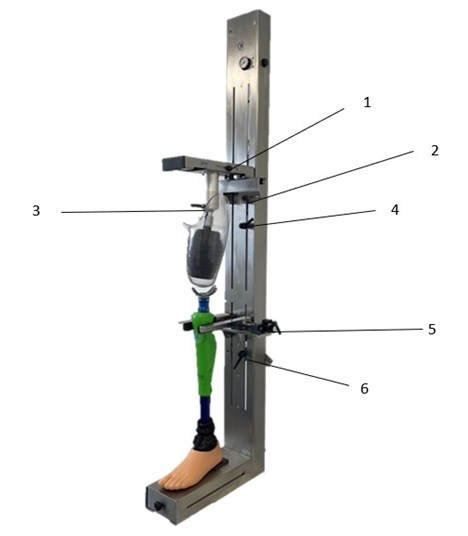 Information about the picture
1) Locking of the prosthesis socket
A well-known means from sanitary technology is used for this purpose. The shut-off bladder can be inflated using air pressure to the point where it is able to lock the socket in place. Please note that the pressure reduction must not exceed 1.5 bar!
2) Knee joint fixation
The respective knee joint can be fixed in its intended position with the help of a centered linear guide.
3) Footrest
A horizontal contact surface, which is used for the correct position of the foot part (necessary heel height).
4) Barometer/pressure reduction
Used to check the pressure (1.5 bar) in the shut-off bladder.
5) Linear rails
Used to adjust the ML and AP position of the shaft to the knee component.
6) Vertical guidance
Used to adjust the distal and proximal position of the shaft and the centered linear guide.
7) Ball joint
The ball joint is used to adjust the abduction, adduction, flexion and extension of the socket to suit the patient's individual measurements and the specifications of the prosthesis components. All settings of the linear rails and the ball guide can be both loosened and fixed by their respective screw connection.
8) Drawer
Used to store heel wedges, measuring tools and other necessary materials.